2014 Season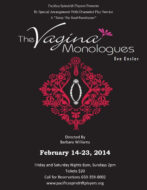 Directed by Barbara Williams
Written by Eve Ensler and first produced in 1996, this episodic production is a series of monologues focusing on women's empowerment and the female experience.This is a Fund Raising event. All tickets are $20.
February 14 to February 23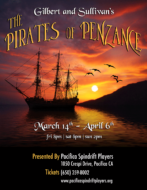 Directed by Sarah Lodick
A favorite Gilbert & Sullivan classic. Join Frederic and Mabel on their musical journey of love, loyalty, duty and, of most importantly... Pirates!
March 14 to April 6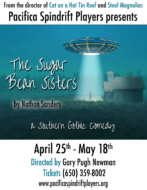 Directed by Gary Pugh Newman
A Southern Gothic comedy of romance, murder and alien abduction. The San Jose Mercury says: "Deliciously offbeat…Sisterhood as an extreme sport… It's just plum impossible to resist the flights of whimsy!"
April 25 to May 18
Directed by Jenny Hernandez
Based on the 1944 film of the same title, this wonderful musical follows a family living in St. Louis, Missouri on the eve of the 1904 World's Fair.
August 15 to September 7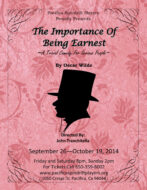 Directed by John Tranchitella
Oscar Wilde's "Trivial Comedy for Serious People" was first performed in 1895 and has remained a classic favorite.
September 26 to October 19
High Spirits
Directed by Henry Sellenthin
Based on the play "Blithe Spirit" by Noël Coward, HIGH SPIRITS is "An Improbable Musical Comedy" about the woes of a widower and his second wife after the spirit of his first wife is summoned in a séance.
October 31 to November 23