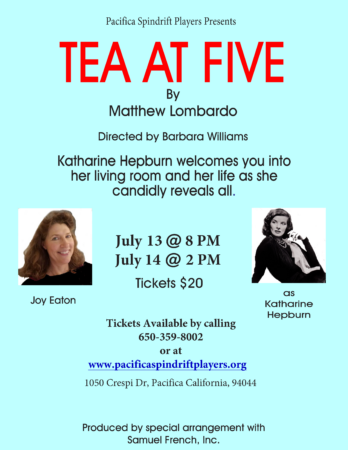 Tea at Five
July 13, 2019
Pacifica Spindrift Players presents Tea at Five, a one-woman show depicting the life of Katharine Hepburn, in a special one-weekend-only fundraising event for PSP.
Directed by Barbara Williams and featuring Joy Eaton as Katharine Hepburn, "Tea at Five" captures the fiery spirit of Hepburn in a one-woman show that recounts her journey from well-heeled Yankee child to four-time Academy Award winner.
Ensconced at her beloved Fenwick home, Ms. Hepburn reflects on the dizzying heights and emotional lows of her upbringing, her adventures in show business, and her heartbreaking romance with Spencer Tracy. Audiences leave with new memories of one of the most dearly loved ladies of an era.
Saturday, July 13 @ 8PM
Sunday, July 14 @ 2pm
Cast and Crew:
Katherine Hepburn: Joy Eaton
Director: Barbara Williams
Stage Manager: Shannon Quinn
Technical Director: Jared Alexander
Producer: Jared Alexander
Lighting: Tara Manini
Sound: David Chin
Reviews from Crystal Springs Players' recent production of Tea at Five:
"With the remarkably talented Joy Eaton, whose interpretation of Katherine Hepburn in 'Tea At Five' was Phenomenal!! This play needs to be seen by many more people in many theaters!!" – Debi Durst
"What a wonderful night of theater at The Crystal Springs Players in San Mateo! I am not one to "gush," but this is WORLD CLASS theater!  Go see it!" – John Tranchitella
"A riveting performance by Joy Eaton; compelling story telling with keen and delicate direction by Barbara Williams. Truly theatre at its finest!" – Jackie Blue