Inspecting Carol Premiers in Pacifica
An Homage to Community Theaters Everywhere
by Storm Russell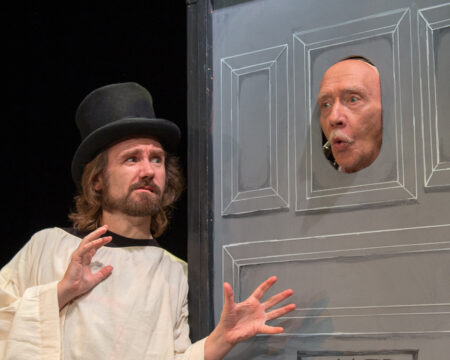 Imagine you're running a struggling theater company, set to open your annual production of A Christmas Carol, when you're told that $30,000 of your budget is being held up until you pass an undercover inspection – and you've mistakenly discovered that the undercover inspector sent to your theater is an impossibly bad actor, and you must do everything possible to accommodate his craziest wishes. Such is the premise for the laugh out loud comedy of Inspecting Carol, playing from November 20th through December 13th at Pacifica's Spindrift Players theater.
Written by Tony award winning playwright, Daniel J. Sullivan and the Seattle Repertory Theater company in 1991, the show explores the concept of changing traditions, and how the best of intentions can quickly become your worst nightmare! The play is loosely based on The Inspector General, written in 1836 by Russian dramatist Nicolai Gogol about Russian corruption, and the 1949 comedy film starring Danny Kaye.
The show is directed by Shawna Ramos, and stars a cast of faces old and new on PSP's stage. Ramos, making her directorial debut with this production, says, "Our cast is made up of some the most talented people I have ever worked with. It is truly an ensemble piece, but the audience will be totally entranced by Lindsay Kelliher, who is just fantastic and Jonathan Ferro who plays the imposter." The cast also includes Cat Imperato, Roger Genereux, Jackie Blue, Rob Hedges, Domenic Falletti, Jason Bustos, Julian Crouser, William Rhea, Miranda Steinberg, and Shannon Quinn.
Regarding her technical team, Ramos said, "I am so blessed to be working with our Stage Manager Sara Ramos. I may be her mother, but she is a true professional and has kept me focused and calm. To share my directorial debut with her by my side makes it all the more special." Also helping are Master Carpenter, Gary Smith, Ray Boersig as Director's Assistant, Jared Alexander with sound, Michael Lodick and Miranda Steinberg with lights, Mike Calderaro with set construction, Storm Russell with production management, and Judy Heldberg with costumes. Ramos designed the set herself.
When asked her reasons for choosing Inspecting Carol to direct as her first play, Ramos said, "I produced this show ten years ago at Half Moon Bay's Coastal Rep theater. I found it to be funny, charming and truly an homage to all those small playhouses that struggle to survive."
While pleased that the show is family friendly, Ramos notes that show does have some adult language and content, and it is not appropriate for younger children. "Personally I just hope the audience will just have a fun time laughing. The holidays can be so stressful! So, all of us at PSP hope that you will find time during the hectic holiday season to treat yourself to something fun, charming and a Christmas "Carol" you won't forget!"
Inspecting Carol runs November 20th – December 13th. Tickets are available online or by contacting the PSP box office at (650) 359-8002.