2019-2020 Season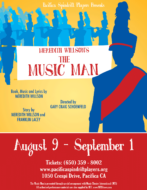 Directed by Gary Craig Schoenfeld, Jr.
August 9 to September 8, 2019
Meredith Willson's six-time Tony Award-winning 1957 musical comedy follows smooth-talking traveling salesman, Harold Hill, who arrives in the tight-knit town of River City planning to con the townspeople, and whose plan is foiled when the stern and skeptical local librarian, Marian Paroo, doesn't buy his story. As Harold struggles to keep his plan in focus, he slowly falls not just for the librarian, but for the people of the town he had meant to swindle.
Season subject to change.